Now that writers are on strike, you may be missing out on your favorite scripted TV shows in the very near future (This may or may not include my former fav
The Hills
). To pay my respects to the shows I desperately do not want to go on hiatus as a result of the strike, here is a little diet dirt on the stars:
Gossip Girl: I am obsessed. Last week was a rerun, and now I am in withdrawal. Tonight is going to be 2-hours long! That's like a freaking movie! One of my favorite characters is played by Blake Lively. I first noticed this natural blonde beauty in "The Sisterhood of the Traveling Pants." She played a soccer player (I played back in HS) and she totally looked the part! She had strong muscular thighs, and oozed sex appeal with her long voluptuous hair. I personally think she is a fabulous role model for the demographic that this show is aimed for. She looks healthy and seems to have a warm bubbly personality.
Well, looks like I'm safe for a little while longer, I just read this on Yahoo.com:
Most of this fall's more successful scripted shows are relatively safe at least through the end of the year, since networks have already ordered 13 episodes of many new series. The CW's hit fall show "Gossip Girl" has enough scripts already written to take the series into the new year, according to network spokesperson Paul McGuire. How the strike will affect next fall's new lineup of shows remains to be seen. If the strike were to last a few months and creep into the upcoming pilot season (which begins in February), the networks would definitely find themselves with a lack of new scripted shows for next season.
I'm sorry to report that shows like "Lost" and "24" that will be debuting new episodes mid season, only have about 8 episodes. I don't really watch either, but I have a roommate that is VERY anxious for the return of Lost. What will happen, they air only 8 new eps and keep the audience on the edge of their seats (consequently a little PO'ed) or not air the episodes at all (consequently, infuriating their audience)? Evangeline Lilly, who plays Kate on Lost, has an amazing body. Here are a few exerps from an interview with Self Magazine:
What other people would regard as my good eating habit is actually a terrible addiction. I'm obsessed with dried organic mangoes. They're so bloody good, but they are so terrible to eat in large quantities. I just can't stop myself!... I would say sleep is my number-one health tip. I don't usually like to take naps or go to bed early, but I'm training myself to do that. I sleep eight hours a night. Water is up there, too; it's at like 1.5 on the list, not even number 2.... I live in a small town, so I walk or ride my bike everywhere. I used to be more of the type of person who separated exercise from my lifestyle. Now, if I don't have to drive my car, I never will.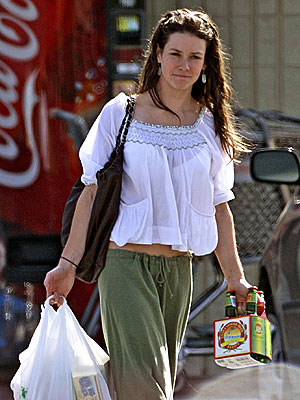 Lilly is often photographed practicing what she preaches, like running/biking around Hawaii as well as surfing, her favorite past time which we have seen has given Cameron Diaz a killer bod as well.
I was going into waves that even my girlfriends, who'd been surfing for 10 years, wouldn't go into alone. I would just see a wave, grab my board and come back bloody and scraped up from coral. I ended up going to photo shoots with scratches all over my calves and shins and feet!
Lastly, one of my favorite shows is "One Tree Hill." The four main women from last season, Payton (Hillary Burton), Brooke (Sophia Bush), Haylie (Bethany Joy Lenz) and Rachel (Daneel Harris) are non-stick scary skinny but healthy and hot. Please oh please bring this show back!!!!