Jamie Lynn Spears, 16, is pregnant. Yes. It has been confirmed by Jamie Lynn herself, her mother and now Nickelodeon. Wonder if she'll get to keep her job as Zoey 101? I wrote about Britney on Monday and almost started crying when I watched her newest music video. She looks empty behind her eyes. How did such a promising family take such a U-Turn? The baby's daddy is Casey Aldridge. Who is Casey Aldridge? He is 19 and he met the little spears in church apparently. He is reportedly from a small town in Mississippi. I'll keep you updated.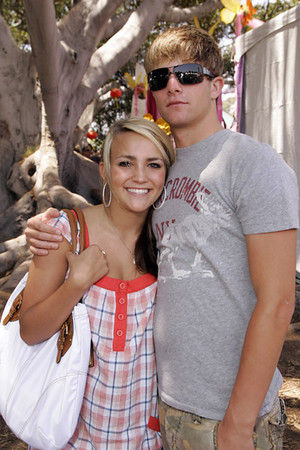 There have been rumors swirling of another pregnant spears for awhile now. She is 12 weeks pregnant! Where is the baby bump watch when you need it? Also there were reports in June that the couple was moving in together, looking at apartments in Valencia, California. I searched for a myspace or facebook of casey aldridge but did not have any luck. If you find one, please post it here! What the hell is wrong with this girl? Why wasn't seh on the pill given her sister's apparent fertility????
Update: I just read that on November 9th, JL Spears reportedly broke up with her Aldridge because she couldn't stand being without him (he started college). Ahhhh I think this blogger got this story completely wrong! Maybe she wanted to have an abortion or he wanted her to have one.... who knows but I think this is right around the time she must have found out.
In August, The National Enquirer got the story right, just a few months too early. They said that Jamie had a pregnancy scare. It got mama Spears all upset that she was going to throw her career away.

"Jamie seemed very stressed and couldn't concentrate," the insider revealed. "Lynne kept asking her what was wrong and demanded that Jamie Lynn tell her what was going on, or she wasn't going back to work.

"Jamie Lynn started crying and told her mom the whole story - that she feared she might be pregnant. Lynne said she would take her to the doctor when they got back home to Louisiana. Then Lynne informed her ex-husband Jamie.

Lynne cautioned Jamie they had to be discreet and there was no way she was going to take their daughter to a doctor in Los Angeles, said the insider.

Britney knows that her sister has been sexually active - and has advised her to go on the pill. But little sister refused and told her… that "the pill would make her fat," according to the insider.

"Use condoms," Britney replied.

The advice apparently went unheeded.

When Jamie Lynn first noticed she was late, she confised only in Britney and did not want to tell her mom Lynne, according to a friend of the teen…

"Lynne is furious that Jamie Lynn told Britney first and not her," said the insider…

Strangely, a distraught Lynne and her ex-husband Jamie sought counsel from an unlikely source - Britney's estranged husband Kevin Federline, who has two children out of wedlock.

The couple met with K-Fed at his Los Angeles home the weekend of July 14, according to the insider…

"Lynne told Kevin that Jamie Lynn could just be stressed out and that she doesn't have regular periods.

"Kevin couldn't believe Lynne and her ex-husband were venting in his living room."

[From The National Enquirer print edition, August 16, 2007]
Seriously????