Giuliana Rancic wants to know your secret! Last night, I watched some of the Red Carpet Arrivals for the SAG awards, because well, I miss the red carpet. But seriously, where was Seacrest? Giuliana was asking everyone for their secret! I'm not kidding either, it became quite laughable. If the celebrity was a female with a rockin' bod, she asked what their "secret" was to staying fit, thin or in shape. If they were married she would make a remark about herself being a newlywed and would ask the celebrity what their secret to a happy marriage was. She probably asked every Desperate Housewife their secret to looking great. And they were pretty much interviewed in the same half hour. Seriously, how did she get her job? She can't think of any other questions to ask? Does she think that the only things we care about are how people in Hollywood actually make their marriages last or how they refrain from getting fat?
Enough with my rant on how unintelligent Giuliana Depandi... I mean
Giuliana Rancic is! Here is my rundown of how I thought the stars
looked with the help of my two roommates, Mary G and Mary D;

(I wrote this as we were watching it live)
Sarah Ramirez spotted wearing a magenta Angel Sanchez number, that was strapless and fitted. It flowed out at the bottom, leaving Sarah to look slim and fit! Sarah appeared as if she had lost a few pounds and toned up... A LOT. Guess she's been using her time off during the strike to focus on her figure.
(Ok, so I wrote this as I watched last night, and now as I look at pictures from last night, the dress doesn't look so flattering, but on TV and I'm sure in person it looked great! Promise).
Ana "The Teeth" Ortiz
(Mary G and Mary D made me write that)
loves to praise and talk about her curves in magazine interviews, but she didn't appear to have many curves in her strapless black dress. Has the popularity of Ugly Betty given Ortiz a new outlook on her latina curves?
I do not like Debra Messing's dress. It looked like a costume out of Egypt. Mary G thought that she looks like Cleopatra and Juliana, a Greek Goddess. However, she looked a healthy weight and as young and happy as ever.
I like Eva Longoria and I liked her dress. I feel like she is a little spitfire. Her dress was cute, a little too glittery and geometric for me, and she might have a fur coat in tow which is totally taboo in Hollywood. Hopefully it's fake. She looked slim and thin as ever. She has some ugly earrings on, but I'll let it slide.
Teri Hatcher sucks. NEXT.
(Mary G and Mary D made me write that too).
Chandra Wilson looks like the fourth dream girl. She looks cute and young, but a little out of place. Maybe she should join Juliana and Deborah at the Halloween Party afterwards?
Ellen Pompeo arrives on cell phone. I do not like her either. Get off your phone! You do not represent Massachusetts very well!
E! stiletto cam is as stupid as PG13 movie.
(Again, Mary and Mary made me write that.)
Nicolette Sheridan was asked by Guiliana how to get her hot bod, and she credited her dress. She disputes having an ideal body, but said she tries to get out of the house 4-5 times a week but said she needs to step it up. When she says step out of the house, I am going to assume this means, go for a run?
Then Teri Hatcher is interviewed, and ask again what her secret is to staying thin. She doesn't believe in dieting, or botox. She wants to be real. She enjoys and has the control to eat in moderation. She admits she goes a couple days without exercising like the rest of us. I think she is full of B.S. but to her credit she does look healthier than usual. Seriously, she doesn't do botox? She doesn't diet? I'm confused, was that just Teri Hatcher?
The Chiquita Banana Dress Award goes to Jane Krakowski. Her dress was a lime green and held up by something that looked like a large beaded Mardi Gras necklace. It was silly looking. In other ridiculous dress news, I didn't mind Sandra Oh's dress at all! I thought the colors were wrong, but the bow thing, wasn't bad in my opinion. I actually enjoyed it. (I'm not saying
I
would wear it).
Angelina Jolie is facing rumors that she is pregnant. Guess what she wore to the SAG awards? A tent dress! Who does she think she is, Tom Brady? Is she trying to play mind games with the media and her fans?
Becki Newton, one of my fave actresses from Ugly Betty looked fabulous in a tiered Donna Baxter for Elsie Katz Couture dress. Co-star America Ferrera looked even skinnier at the awards than the last time I saw her campaigning for Obama in Vegas. What is going on with the latina break out stars on this show? They all showed up missing their signature curves. Whatever... Maybe they haven't lost any weight but I'm suddenly looking at them with the average normal persons standards.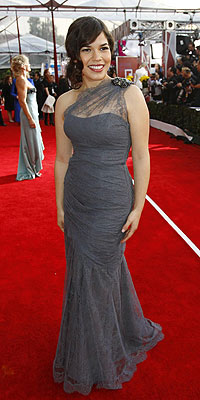 Christina Applegate also looked truly fabulous. She always looks stunning, healthy and confident. It also helps that I love her.
Amanda Bynes, the annoying girl from Nickelodeon's The Amanda Show back in the day.. I mean critically acclaimed Hairspray, looked very cute and age appropriate. The 21-year-old appeared to be a little slimmer than usual. I'm not supporting Bynes losing weight, but I'm just going to say that after Lohan, and Duff lost a ton of weight, I thought that Bynes would be next. I applaud Bynes for not walking down the same path as her peers. She does a fabulous job staying out of the tabloids by not partying as much as the other young celebs, or dating high profile men. While she does look a little skinnier, I think it's just that she's maybe toned up a bit, but I don't think she's doing anything drastic by ANY means. She may be annoying, but she appears to be somewhat normal.
That does it for this fashion recap. Who was your favorite dressed? Who was the worst? I did not include my top picks, but I will let you know my fave later on!